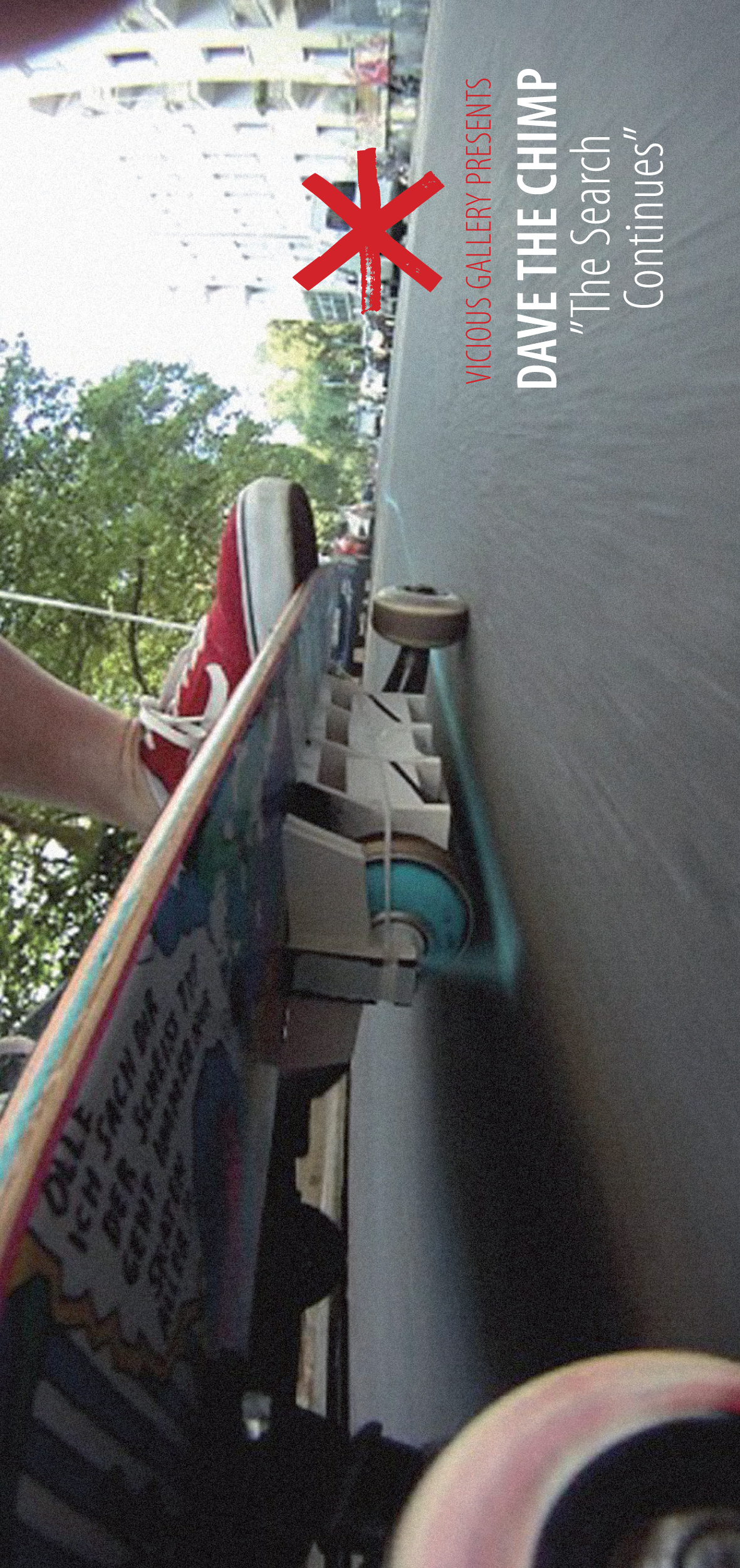 Dave The Chimp
Dave the Chimp - The Search Continues - September 2011

Als Dave the Chimp seine erste Einzelausstellung `Searching for the perfect Line` in der Vicious Gallery im Jahr 2008 gehalten hat, war er kurz zuvor nach einem 13 jährigen Aufenthalt in der englischen Hauptstadt London nach Berlin gezogen.
Diese Periode markierte selbstredend einen Neuanfang für ihn.
Zu dieser Zeit begann er komplexere Arbeiten zu zeigen und persönliche Eindrücke in seine Kunst einzubringen.
Dabei wurde mehr Wert auf die `one line` Arbeiten und weniger auf die bis dahin sein Werk bestimmenden figurativen Arbeiten gelegt.
Das beste Beispiel hierfür ist die stop- motion- Animation `One line is all you need`,
die sich im Internet weiterhin großer Beliebtheit erfreut.

Seitdem hat sich eine Menge getan.
Dave hatte verschiedene Einzel- und Gruppenausstellungen, z.B. `Backjumps 4.2, the Kids Special`, wo er eine interaktive Schwarzlicht- Horror- Show zeigte oder aber die Teilnahme an der  Ausstellung `Urban Art- Werke aus der Sammlung Reinking` im Weserburg Museum für Moderne Kunst in Bremen.
Seine Liebe zu Büchern brachte er mit dem Malbuch `Outside The Lines, The Street Art Colouring Book` (Laurence King, UK) in dem er die Arbeit von 75 Street Artist zusammenführte und seiner ersten Einzelpublikation `Part of Rebellion 2- Dave the Chimp` (Publikat Verlag) zum Ausdruck.
Seine bedeutendste Kreation ist jedoch sein im Jahr 2009 geborener Sohn Oskar.

3 Jahre nach der ersten Ausstellung in der Vicious Gallery geht die Suche immer noch weiter.
Dave malt weiterhin auf der Straße und probiert dabei neue Techniken aus und fährt seit nun mehr 25 Jahren Skateboard.
Die ersten 6 Monate des Jahres 2011 nahm Dave an der Berlin International Skateboard Artist Residence teil, die von der Oxylane Art Fundation durchgeführt wurde.
Dabei fokussierte er sich auf seine Liebe, das Zeichnen und organisierte nebenbei Vorträge von Skateboardern/ Künstlern, schuf eine Skulptur die zum skaten geeignet ist und veranstaltete zusammen mit East Eric (Witchcraft Skateboards) eine Ghetto Wrestling Party.
Dave wird bei seiner Ausstellung in der Vicious Gallery einige seiner neuen Techniken erstmalig präsentieren, aber auch die bei seinen Fans beliebten, klassischen Arbeiten mit einer perfekten schwarzen Outline ausstellen, wie man sie zuletzt bei der Ausstellung Serigraph 2011 im Druck `Playing God` bestaunen durfte.

When Vicious Gallery held their first solo show of the work of Dave the Chimp in August 2008 - Searching For The Perfect Line - Dave had recently moved to Berlin from London, his home for the previous 13 years. It marked a new beginning for Dave, showing more complex works, personal pieces of discovery that had been brewing for a few years, with less emphasis on the character based pieces he is known for. It was also the first time he had shown his "one line" works, in this case with the stop-motion animation "One Line Is All You Need".

A lot has happened since then. Dave has shown in various solo, group and museum shows throughout Germany, including "Backjumps 4.2, the Kids Special", where he built a castle complete with a black-light interactive horror show, and "Urban Art - Werke aus der Sammlung Reinking" at the Weserburg Museum für Moderne Kunst in Bremen. His love of books led to him compiling the work of 75 street artists in the book "Outside The Lines, The Street Art Colouring Book" for UK publisher Laurence King, and he had his first solo book "Part of Rebellion 2 - Dave the Chimp" released by Publikat in 2009. His most important creation though is his son Oscar, born in the summer of 2010.

Three years after his first show at Vicious Gallery and the search continues. Dave is still painting in the streets, developing new ways to work, and is celebrating a quarter of a century riding skateboards. For the first six months of 2011 Dave was part of the Berlin International Skateboard Artists Residence (BISAR) hosted by the Oxylane Art Foundation. As well as organising lectures from skater/artists such as French (Witchcraft Skateboards) and East Eric, throwing a Ghetto Wrestling party, and designing a skateable concrete sculpture, Dave has been focusing on his first love - drawing. During this time he has created new ways of making his mark, some of which he will be debuting at Vicious Gallery. Alongside new techniques will be the tried and tested fan favourite - perfectly rendered black outline work - focusing on mind-bending worlds made from letter forms and skate parks.  And continuing his search for the perfect line, Dave will show further exploration into his deceptively simple "one line" works, most recently seen at our "Serigraph 2011" show in the print "Playing God".